Wherever football is played in the world, there will always be a talent displaying the rich culture of Nigeria in the round leather game, as evident in the exploits of Aaron Kidmas in far away Australia.
The DNA of millions of Nigerians have been programmed to produce football talents globally, it is therefore not surprising that Kidmas is on the lips of keen stakeholders of the game at Valley Road Ground, where he plies his trade with Devonport City Strikers FC in Tasmania National Premier League, Australia.
The Australian – Nigerian, who can play at any midfield position is blessed with the playing style of Ivorien football star, Yaya Toure, former Manchester City midfielder, who is fourth – time African footballer of the year. The young Nigerian is strong, tall and combative midfielder, who can dominate ball possession and determine the control of the midfield.
The Devonport City Strikers FC player is very quick in making decisions, easily releases the ball with short or long passess depending on the situation. He has developed his football craft over the years in Australian league after breaking into the first team of Riverside Olympic FC at 16 years old.
His football intelligence is way above his age. His classical control of the ball, marking abilities, visionary ball passing skills as a box-to- box energetic display in the midfield clearly defines him as a modern day midfielder, who can adapt easily to any tactical formation of any coach.
Another unique style of his play that has made him the rave of the moment in Australia is the fact that, he has configured his football with wisdom to know when to slow down the pace of the game and when to quickly deal dangerously with the opposition with his defence – splitting passes from the midfield that easily connects his teammates in the attack in goalscoring position.
At 19 years old, Kidmas is powerfully built and it is very difficult to retrieve the ball from him and despite being naturally right footed, you could see him using his left foot effectively, which gives him advantage in the midfield tussle, not forgetting to add that he has the ability to dribble past players swiftly as he strides into the box of the opponents.
Born in Jos, Plateau State in the North Central of Nigeria, the young Aaron left the shores of the country with his parents at the age of four years to Australia, the country which has nurtured his football from cradle till his present age.
In an exclusive interview with www.totorinews.com, Kidmas said that he is very proud of his Nigerian root, although he holds both Nigeria and Australia passports, he is thrilled with the realisation that he was born in Jos, Plateau State in Nigeria, a place that has produced great Nigerian footballers and he strongly to follow their footsteps.
He informed that he has been following Nigerian football despite the long distance between both Australia and Nigeria, he has not lost his connection with his root and her football, having also visited the country on holiday on few occassions since his parents left in 2007.
"I was born in Jos in Plateau State. I always consider myself as someone who is destined to play football. I was born in Jos, a place that has produced great Nigerian footballers and it is my prayer that i will keep on improving my game here in Australia," Aaron Kidmas told www.totorinews.com.
"My father, who has been very supportive of my football career told me that Segun Odegbami, Ismaila Mabo and Benedict Akwuegbu were born in Jos. I also got to know that Ahmed Musa, Obinna Nsofor, Ogenyi Onazi and Sunday Mba were all Jos – born Nigerian footballers.
"I had been to Nigeria on few occasions on holiday since we came to Australia. I have strong convictions that I was born to play football, destined to be a footballer and I will keep on working hard on the field to achieve my objectives and ambitions.
"Football is widely followed in Australia. As an Australian- Nigerian, I had mixed – feelings when Australia defeated Nigeria at the FIFA U-17 World Cup in Brazil few years ago.
"I was happy that both countries qualified from the group. I look forward to playing my part in Nigeria football in the future, play for the Super Eagles one day. It will be wonderful to play for Nigeria.
Speaking further, the smooth operating central midfielder revealed that he likes to have the ball all the time and to ensure that his teammates are equally making good use of the ball to their advantage, which is to score goals and help my team.
"As a midfielder, having the ball gives you the advantage. It makes you reason fast in making good decisions with your passes. The aim is to have the ball and make good use of it to your advantage, which is for your team to score goals.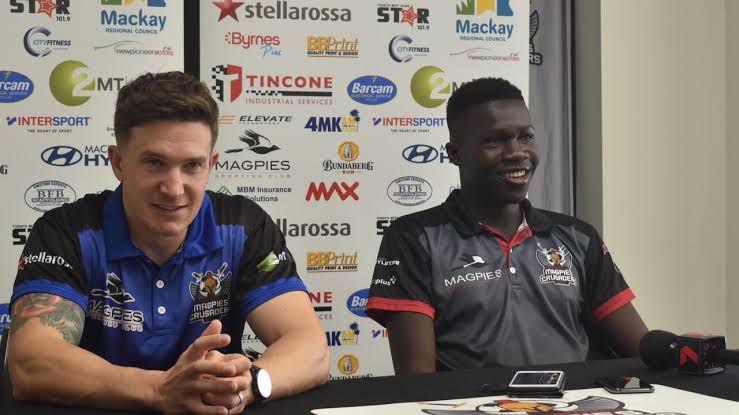 "The coaches and management of Devonport City Strikers have been very helpful to my development as a footballer," he said.
Copyright © 2020 Totorinews.com All rights reserved. The information contained in Totorinews.com may not be published, broadcast, rewritten, or redistributed without giving due credit to Totorinews.com as the source.