After he made his official declaration to contest for the president of the Nigeria Football Federation (NFF) in a very classy event filled with Crème de la Crème personalities in Abuja on Tuesday night, Ibrahim Musa Gusau has said that he has the capacity to stabliise Nigeria football, reports www.totorinews.com.
Gusau, who is the football supremo in Zamfara State FA and Chairman of Chairmen in the Federation was the cynosure of all eyes as dignitaries from both private and public sectors, football stakeholders, top government officials from the presidential villa, national assembly all gathered to celebrate the candidancy of man known for his humility and great service to humanity.
In a brief chat with the media after the event, the astute football administrator said that as an Accountant with over 35 years in service, he is fully equipped with knowledge, wisdom and discipline to manage funds and this will be very evident under his leadership as NFF president, as he noted that the essence of money is how it is managed.
"It is about how we manage the funds that comes to the NFF. I served as an accountant for almost 35 years. So, when you see an accountant, he is someone that can manage funds very well. I have been trained to manage funds well." Gusau said.
"As an accountant, I have the capacity to do what I need to do to stabilise the system and make Nigeria football work better," he added.
Ahead of the forthcoming NFF elections, Gusua said that all the 11 cleared NFF presidential candidates are all capable and he hopes that the delegates at the elective congress will make the right judgement.
"We are all capable. We are all from the system and we know that we can all do it, but the most important thing is for the delegates to judge right.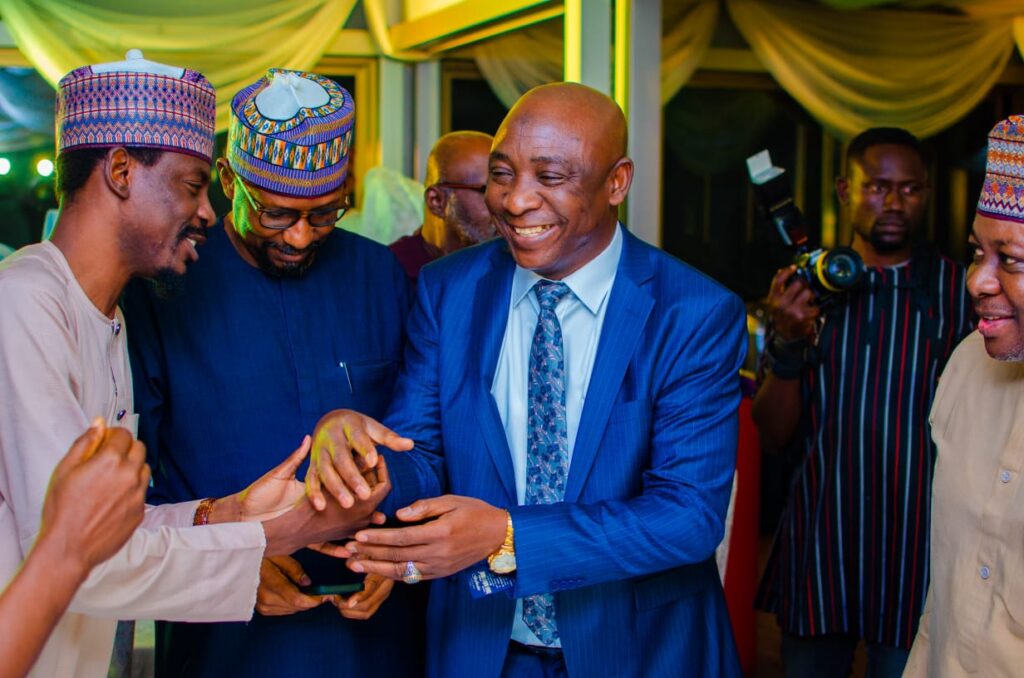 "Some of us have been working together with the delegates for years now, they know our capabilities and I am very convinced that they will make the right decision come September 30th in Benin City, Edo State.
"All these things we are doing, planning, I believe that God has already destined whatever that will happen and we pray that God will help us to make right choice for Nigeria football," he said.
Gusau is also the chairman of NFF Security Committee .
SOME DIGNATRIES AT IMG'S DINNER LAST NIGHT.
HE. Alh. Mahmud Aliyu Shinkafi,
[Dallatun Zamfara],
Former Executive Governor,
Zamfara State,
Gusau.
HE Silas Ali Agara,
Former Deputy Governor,
Nasarawa State
Senator Moses Cleopas
( Bayelsa Central )
Hon Ibrahim Shehu Gusau
Hon. Abdullahi Alhaji Zakari Rabah FNA
[Dallatun Rabah]
Deputy Majority Leader,
Sokoto State House of Assembly,
Sokoto.
Hon. Isah Sadik Achida,
Chairman Governing Board,
Raw Materials Research and Development Council [RMRDC]
[ Sokoto State APC Chairman ]
Alh. Hassan Bello Dangote,
[business tycoon]

Alh Haruna S/Gobir Adiya,
A prominent Sokoto based Business Man

Mohammed Abatcha,
Rtd Perm Sec, Borno State

Babagana Mustapha,
Rtd Perm Sec/A business man – Borno.
Mr Sam Olaniyi
An Abuja based Business Man.
Copyright © 2020 Totorinews.com All rights reserved. The information contained in Totorinews.com may not be published, broadcast, rewritten, or redistributed without giving due credit to Totorinews.com as the source.