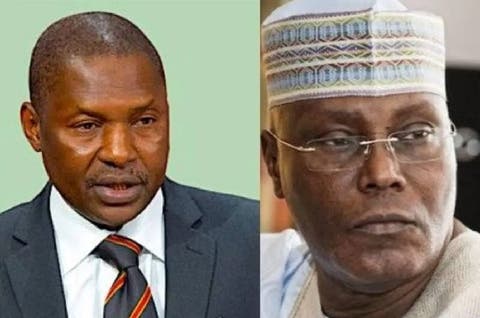 As Nigerians look forward to 2023 presidential election in the country, Attorney-General of the Federation (AGF) and Minister of Justice Abubakar Malami (SAN) has told a Federal High Court, Abuja that former Vice President Atiku Abubakar is not qualified to contest for President as he (Atiku) is not born a Nigerian or by Nigerian parents.
The AGF further argued that the former Vice President is not eligible, under the constitution to contest for the President of the country on the ground that Atiku failed to meet the provisions of Sections 25(1) &(2) and 131(a) of the constitution and would be violating Section 118(1)(k) of the Electoral Act if he put himself forward as a candidate.
The AGF's argument was contained in an affidavit in support of the suit filed by a group, Incorporated Trustees of Egalitarian Mission for Africa (EMA), challenging Atiku's eligibility to contest for President and praying the court to hold among others, that considering the provisions of sections 25(1) &(2) and 131(a) of the constitution and the circumstances surrounding his birth, Atiku cannot run for the Presidency of the country.
Source : Nigeria Tribune
Copyright © 2020 Totorinews.com All rights reserved. The information contained in Totorinews.com may not be published, broadcast, rewritten, or redistributed without giving due credit to Totorinews.com as the source.