We have come to that time of the year when a lot of Nigerians look forward to reuniting with their loved ones back home in the villages.
The month of December beckons on us in a few days time and despite the outbreak of COVID-19 pandemic earlier in the year, many Nigerians would still travel to their villages to celebrate the Christmas mood with their aged parents, brothers and sisters and their childhood friends.
The yuletide season is also the time when we have lots of motorists on the Niigeria highways. It is a time that you will not be surprised to see hectic traffic along some popular express ways linking states within Nigeria.
There is no doubt the Federal Road Safey Corps (FRSC) under the leadership of Corp Marshal, Dr. Boboye Olayemi Oyeyemi (MFR) have done a terrific job in sensitising the Nigerian public on safety on Nigerian roads.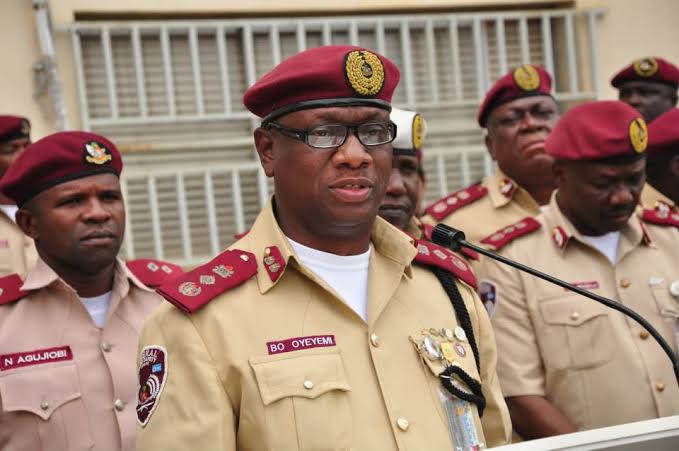 Therefore, as many Nigerians plan to travel for the yuletide in the busy month of traffic inter – states movement of vehicles, it is proper to be really safety conscious.
There are some safety tips that must be followed in order to avoid accidents during this period. They are as follows :
1. Service your car very well.
You must know the state of your  car very well before you embark on that journey. Service your car thoroughly. 
Take the car to an experience automobile engineer or mechanic for the car to be properly examined, serviced and certified road worthy to embark on the long journey to your country home.
You have to ensure you have fire extinguisher that has not expired. So check your fire extinguisher well and if it has expired, simple buy a new one.
Check if your jack is in good condition and other tools used to fix tyres in case while travelling one of the tyres got bursted after stepping on a sharp object. You have to be prepared for such emergency.
If there is a need to have new tyres, please buy and fix new tyres to withstand the rigorous and very terrible Nigerian roads that some have tagged "death traps".
Also make sure that your head lamps are in perfect condition. The light must be well illuminated to see properly if the journey takes you to when the day is dark.
You are expected to have certain gadgets in your vehicle at all times to meet the requirements of the law especially as you travel.
The items have been carefully listed by the officials of the FRSC to ensure the safety of vehicle owners. These include :
1. Warning triangle (c-caution)
2. Fire extinguisher
3. Jack
4. Spare tyre
5. First Aid kit
6. Wheel spanner
7. Water
8. Hydraulic
9. Transmission fluid
10. Torch light
11. Spare fan beltHide quoted text
2. Avoid over speeding.
It is very common to hear that the phrase "speed kills" and when you drive on Nigerian highways that have potholes along the way, there is a need to drive with a modest speed to avoid bumping into these dangerous traps. 
You can take a decision to stop over speeding. You will not regret this decision as someone that drives within Nigerian roads.
I had earlier written how I took the decision to stop over speeding after I came back from Russia more than two years ago.
You can click the link below to read my decision to stop overspeeding.
3. Have enough sleep.
You may ask what has having enough sleep got to do with driving safe? It is very essential to have enough sleep before you embark on that journey of driving from your base to the village.
This is the problem affecting most drivers of public transport companies in Nigeria. Lack of enough sleep is one of the causes of accidents on Nigerian roads.
When a driver lacks enough sleep prior to embarking the journey, he will not be mentally alert and there may be tendency for him to occasionally doze off while driving and this may lead to accident.
I have heard strange stories of some drivers falling asleep on the wheels and it took the intervention of the watchful passengers to remedy the situation.
So, at least sleep for good 8 hours a night before the journey. This will make you to be alert all through the journey as you drive the long hours to the village.
4. Avoid carrying overload.
Seeing the seas of heads waiting to board the vehicles at various transport companies in Nigeria during the Christmas season should not be the opportunity to carry overload. 
If you are also travelling with your personal car, you should not fall into the temptation of carrying over loads, be it humans or goods you want to take to the village to celebrate the yuletide season.

Overloading your car is a big burden that may result in accident. It is expedient for you to avoid this as you travel during this yuletide season.
5. Avoid Alcohol in whatever form.
Alcohol is a mocker, a destroyer and a killer. You must avoid drinking any form of alcohol before you drive or as you drive along the journey. It is not a new thing to see some commercial bus drivers drinking some concortions in the name of fighting sugar in the bodies or any other reasons, but it is something that is against the ethics of driving.
6. Prayer
Having done all you can to ensure all of the above, please you must commit the journey into the hands of God through prayer, trusting God to guide and lead you as you navigate all the dangerous bends, potholes and other unforeseen obstacles along the Nigerian highway.
Safe journey shall always be our portion as we travel through Nigeria roads by the grace of God.
Francis Achi, the publisher of www.totorinews.com powered by Double Click Network Limited is based in Abuja.
Copyright © 2020 Totorinews.com All rights reserved. The information contained in Totorinews.com may not be published, broadcast, rewritten, or redistributed without giving due credit to Totorinews.com as the source.