FAME Foundation, a Non-Governmental Organisation, NGO, commemorates the International Day of the Girlchild (IDG) and #FootballPeople Weeks 2020 with Play it Dream it Conference for Internally Displaced Persons, IDP girls at the Durumi IDP Camp, Abuja on October 9, 2020.
The conference was a convergence of over 70 refugee girls aiming to venture into sports as a full-time career, put together to provide a platform for the girls to gain insight into 'how to kick-start, sustain and succeed in sports participation and management, and from coaches, sports administrators, current and ex athletes, male and female alike mentored the girls.
Due to Covid-19 pandemic and the need to adhere to safety regulations laid out, the conference was held virtually, the girls watched and listened to the speakers via a big screen that was placed in their camp.
In her opening remarks, Executive Director of FAME Foundation, Ms Aderonke Ogunleye-Bello, said that, one of the aims of the organization is to enhance participation of girls in sports and ensure they get equal treatment as their counterparts.
"Promoting gender equality and the rights of women and girls especially these refugee girls is a mission we take seriously at FAME foundation, we want to do as much as we can to help ensure these girls reach their full potentials as believe they can excel in sports too, thereby helping their communities and nation forward," she said.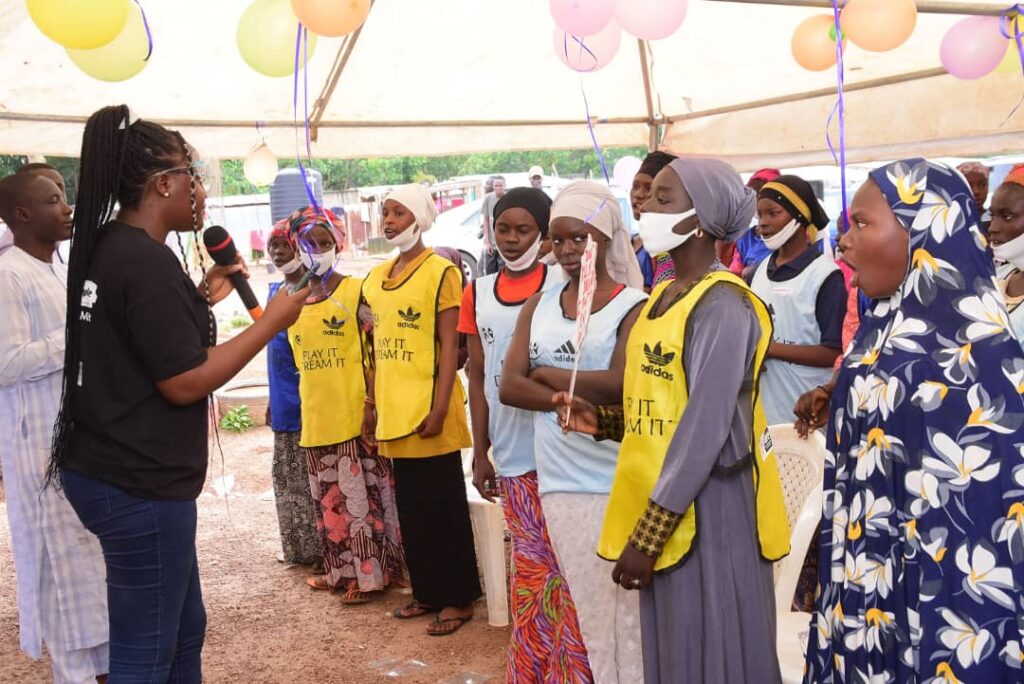 Ms. Maureen Mmadu, a former Super Falcons coach and midfielder; together with Ms. Iloduba Sarah, football player with Osun Babes FC, spoke to the girls on the topic, "Do's and Don'ts of Domestic Football in Nigeria."
Guest speaker at the virtual conference was, Ms. Ruth David, Head of International Competitions, Nigeria Football Federation, and Member of the National Association of Women in Sports (NAWIS). She delivered a speech on, "how to kick-start a football career in a male dominated field" and highlighted three points for a successful career; education, positive attitude and entrepreneurship which should be a backup plan for every female footballer. 
David Doherty, CEO Team Nigeria UK and International, Ms. Tara Aladegbamigbe, Director and Head of Talent Identification at Team Nigeria UK and International,  Ayishatu Zakaria Ali, a sports journalist with Global Media Alliance in Ghana, and Trina Bolton, Program Officer at the US Dept. of States, Diplomacy Division of the Bureau of Educational and Cultural Affairs went further to speak on, "Football: A tool for girls empowerment"
Ace Sports Journalist, Samuel Ahmadu of Goal.com and Uche Nwudoh of Kiss FM, Abuja moderated the panel.
The girls went further to play a novelty football match after the mentorship session was wrapped up. Play it Dream it Conference was put together by FAME Foundation with support from FARE Network and US Department of States.
 
Copyright © 2020 Totorinews.com All rights reserved. The information contained in Totorinews.com may not be published, broadcast, rewritten, or redistributed without giving due credit to Totorinews.com as the source.