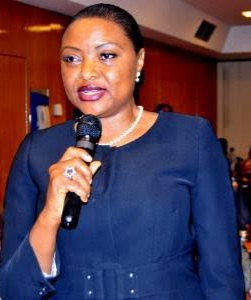 By TobexSports
Ahead of the Nigeria Women Football League, NWFL premiership season which kicks off on the 9th of December 2020, the President of the Nigeria Football Federation, NFF, Amaju Pinnick has overwhelmingly given Aisha Falode a huge vote of confidence in her strive to bring sanity and advance the course of women football in Nigeria.
Falode, an astute football administrator, chairperson of the NWFL has brought some laudable innovations to the development of women football in Nigeria and it is therefore not surprising to many football stakeholders in Nigeria with the accolades she got from the leadership of the NFF, which she is also a member of the executive committee of apex football body in Nigeria
"Since she took over the leadership of the NWFL, She has brought in a lot of vibes. We can only improve on what Aisha Falode has done. She brought a lot of innovations into the women's league. Even a blind man can feel it". Pinnick said.
It is on record that the women domestic league took a positive turn upon the assumption of Aisha Falode as the chairperson of the board. The uncontrollable spate of work overs from even the home teams at home was quickly tackled by her as she showed tremoundous support to teams by shouldering the indemnity of the home team.
The NWFL truly showed that it was the unplanned Covid 19 pandemic and the recent agitation by the youths as regards police relations with the youths that slowed down the resumption of the league.
Dates for the league resumption has been announced, draws made and the onus lies on the teams to fulfill the licensing indices to be part of the premiership.
"Our team will inspect facilities for home games for approval and all other criteria will be looked into. Any erring club will be subsequently sanctioned," Falode said.
"Transparency, accountability are my watch words as we strive to have the best league in Africa". She added.
The NWFL premiership has been the hub of club sides in Europe especially Spain as other African players are trooping in to Nigeria' as a gateway to playing abroad.
A straight league format will be played for 30 weeks to give room for stiff competition and more qualitative matches as the challenge for the maiden edition of the CAF women champions League is upon us
Copyright © 2020 Totorinews.com All rights reserved. The information contained in Totorinews.com may not be published, broadcast, rewritten, or redistributed without giving due credit to Totorinews.com as the source.