Kate Isaac, the wife of late Nigeria International, Isaac Promise, who passed away last year October has revealed that seeing her son scoring goals like his father makes her weep, www.totorinews.com reports exclusively.
How time flies! Today makes it one year of the passing away of Isaac Promise, a sublime footballer that gave so much joy to Nigerians during his active days in the different categories of the national teams.
It has not really been easy to cope with the sudden demise as revealed by Kate, adding that she and the three children left behind are grateful to God for for his divine provision and protection despite all the challenges.
"Isaac Promise passed on last year October 2nd. It is one year of his memorial. We have three beautiful kids together. Two boys and a girl," Kate Isaac told www.totorinews.com exclusively.
"I just want to thank God for how he has kept us and how he has been providing for us, how he has been protecting us, I just want to appreciate God for his goodness and mercy," she added.
She further said that the strong football DNA of her late husband is fully active in her two sons, who are very passionate about the round leather game and nurturing their football skills at a football academy in the United States.
"As for my two sons, both of them play soccer . They love playing soccer popularly called football in Nigeria. They love soccer.
"Two weeks ago, my first son had a game which his team won 4-3. He played and he scored one of the goals for his team. It was with his head. As I watched him scored that goal, tears rolled out from my eyes. I started to cry and I said 'Isaac Promise this is you, this is you right there'. I knew because my husband loved scoring goals with his head, my son also does that.
"I wept when my son scored a goal with his head like his father. My second son is also an attacker and they are improving everyday in the game. I just want to thank God for how he has kept us.
Sadly, Austin Bold FC in USL, the last team the former captain of the Flying Eagles played for before his death had not reached to her since the unfortunate incident, but some friends of the late attacking midfielder still remembers to keep in touch with his immediate family.
"As for his friends, three of them still reaches out to me to check on me and the family, to check up on how we are doing. Odion Ighalo, Simon Zenke and Funny Bone the comedian are my husband's friends that have show so much care to keep in touch with us. I thank them so much.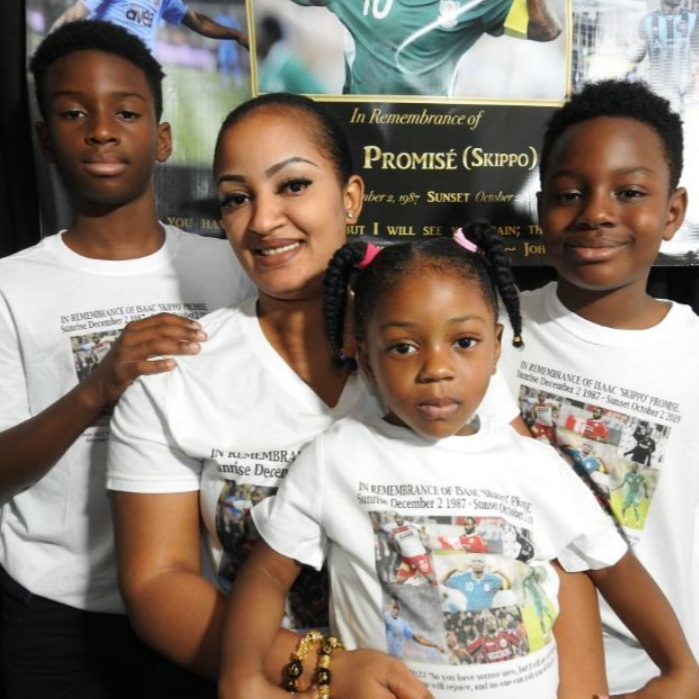 And for his team here in the United States, they haven't reach out to me yet. Hopefully, I will hear from them soon. I thank God for everything.
As one of the special ways to celebrate his one year remembrance, the family and their friends used the opportunity to put smiles on the faces of homeless people in their neighhood within Atlanta in the United States.
"There was no one who came across him, that did not benefit from him in one way or the other. He was a great man. We love him, I love him and I missed him so much.
"I thank God for everything for I know that he is in the right place. I know he made it to heaven. I thank all his fans for their love, their prayers and I deeply appreciate them all.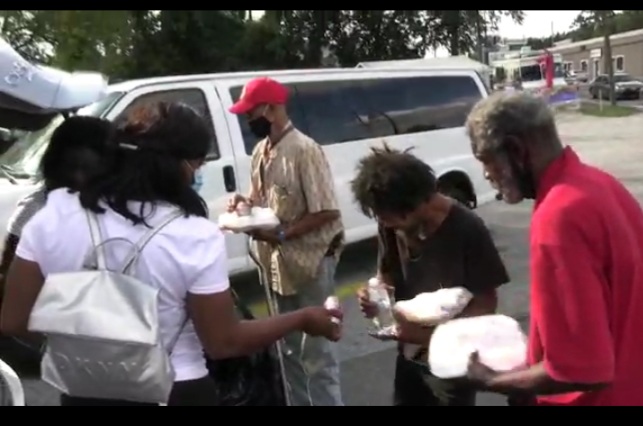 May God meet everyone of us at the point of our needs as we celebrate one year memorial of the passing away of my beloved husband, Isaac Promise," she concluded.
Late Isaac Promise was the captain of the Flying Eagles that won the silver medal of the 2005 FIFA U 20 World Cup in Netherlands after losing 2-1 to Argentina in the final.
The same feat was repeated three years later at the Beijing Olympics where he led the Olympic Eagles of Nigeria to win silver medal of the football event, with same Argentina winning the football gold medal courtesy of the lone goal scored by Angel Di Maria.
Copyright © 2020 Totorinews.com All rights reserved. The information contained in Totorinews.com may not be published, broadcast, rewritten, or redistributed without giving due credit to Totorinews.com as the source.